Event Details
Our film on Saturday evening will be "Atlantic"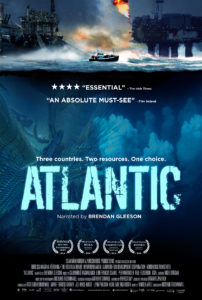 8:00pm – 10:00pm / FREE FILM, "Atlantic"
in the Moynalty Steam Threshing Museum
From the maker of The Pipe, Risteard Ó Domhnaill's the new film Atlantic takes on the powerful interests carving up Ireland's ocean resources. Emmy Award-winning actor Brendan Gleeson narrates the film, which was shot across Ireland, Norway and Newfoundland (Canada) by Scannáin Inbhear (Inver Films).
Atlantic follows the fortunes of three small fishing communities as they struggle to maintain their way of life in the face of mounting economic and ecological challenges. As the major oil companies drive deeper into their fragile seas, and the world's largest fishing companies push fish stocks to the brink, coastal people and the species they rely on may be reaching a point of no return.
GETTING THERE
Moynalty Goes Wild will be held in the Moynalty Steam Threshing Museum on Friday and Saturday, while Sunday's event takes place in the Golashane Nature Reserve, Tierworker, Kells, Co. Meath.
Please click here for a map of the Moynalty Steam Threshing Museum – the Sat Nav code is N 53'47.229, W -6'53.303 and the Eircode is A82 C6K7.
Event Programme
EVENTS FOR THE WEEKEND
The Moynalty Goes Wild Sustainability Festival runs over the entire weekend, takes place in the Moynalty Steam Threshing Museum (apart from Sunday) and is FREE to attend.

FRIDAY 21 OCTOBER 2016:
8:00pm – 10:30pm / UPCYCLE YOUR OLD FURNITURE
FREE upcycling event with Valerie Shekleton – bring along your old picture frames and furniture.
SATURDAY 22 OCTOBER 2016:
2:00pm – 5:00pm / FARMING, WILDLIFE AND RENEWABLE ENERGY
Our speakers include:
Patrick Farrelly "Biomass Willow".
Pamela Hosford and Ronan Watters (Grow it Yourself, North Meath).
Barry Kavanagh (Nature's PATCH Network) "Working with Local Communities".
Brian Keeley (Ecologist) "Bats are for life, not just for Hallowe'en".
Michael Quirk (Irish Solar Energy Association) "Farming and Solar Energy".
Duncan Stewart (Broadcaster and Chair of Green Foundation Ireland) "Farming and the Environment".
Goska Wilkowska "Invasion of the Aliens (plants!)".
While this is happening, there will be EVENTS FOR CHILDREN, including
a series of films organised by Sky View in their mobile planetarium,
Fionn Keeley talking about fossils, and a Wildlife Workshop with Conn Flynn.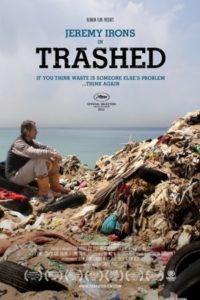 8:00pm – 10:00pm / FREE FILM, "Thrashed"
Trashed is an award-winning documentary feature film, written and directed by the British film-maker Candida Brady. It follows actor Jeremy Irons as he investigates the global scale and impact of humanity's modern waste.
"The beauty of our planet from space forms a violent contrast to the scenes of human detritus across the globe. Each year, we now throw away fifty-eight billion disposable cups, billions of plastic bags, 200 billion litres of water bottles, billions of tonnes of household waste, toxic waste and e-waste. We buy it, we bury it, we burn it and then we ignore it. Does anyone think about what happens to all the thrash we produce?"

SUNDAY 23 OCTOBER 2016:
2:00pm – 5:00pm / BUILD A BADGER SETT
Ecologists Donna Mullen and Brian Keeley will show you how to build a badger sett. Gordon Mackey will talk about bees, and Enda Mullen (District Conservation Officer for the Wicklow NPWS) will talk about her work.
NOTE: Sunday's event will take place in
Golashane Nature Reserve, Tierworker, Kells, Co. Meath
If lost, please contact Donna Mullen @ 087 745 4233
Further updates on this event will appear on this page.
This event is made possible with the financial support of
the Local Agenda 21 Partnership Fund at Meath County Council.