Green European Foundation, with the support of Green Foundation Ireland, invite you to The Point Festival / Carnsore Summer School from Friday 7th to Sunday 9th September 2012.
Ireland welcomes the twelfth 'Summer University' of 2012 as Green Foundation Europe's series of Summer Schools culminate at Carne, near Carnsore Point, County Wexford.
Carnsore Point – location of the famous festivals of the late 1970s and early 80s, which were instrumental in halting the then Government's plans to build a nuclear power station at that site – is arguably the birthplace of the Irish environmental movement.
Seeking to invoke once again that spirit of people-power, the Summer School will devote the weekend to discussing 'Climate Change: Myth and Reality'.
Unique to this School will be its festival and child-friendly atmosphere, incorporating music and comedy performances, a film premiere and activities designed to stimulate body, mind and soul.
It promises to be an exciting weekend. All are welcome!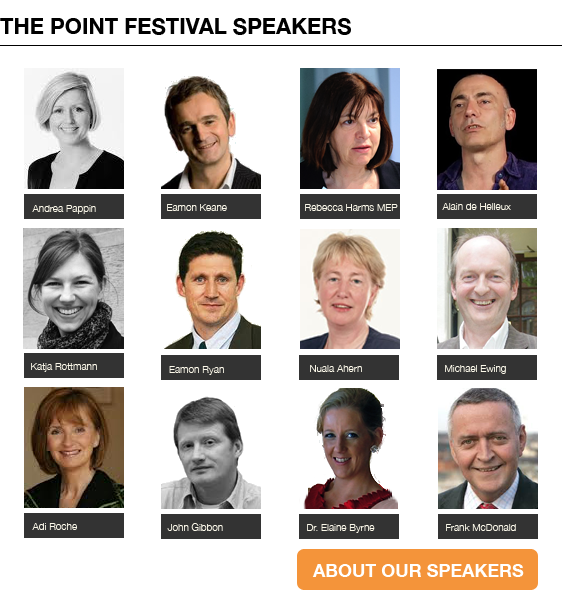 PROGRAMME OF EVENTS (updated on 5 September 2012)
______________________________________________________________________
FRIDAY 7th SEPTEMBER
7:00pm to 7:45pm / REGISTRATION
8:00pm / REFLECTIONS OF CARNSORE PAST
Radio show style panel discussion, interspersed with songs from acts who played original festival.
Chair: Eamon Keane.
Panellists: Billy Roche (Playwright); Tommy Sands (Musician); Adi Roche (Chernobyl
Children International).
10:00pm / Performance of ECO-FRIENDLY JIHAD by Abie Philbin Bowman.
Followed by SESSION – Music performed by: The Darling Sins.
______________________________________________________________________
SATURDAY 8th SEPTEMBER
7:30am to 9:45am / BREAKFAST
10:00am to 10:30am / AARHUS FOR BEGINNERS – Empowering individuals,
communities and institutions through the application of the Aarhus Convention.
A short but informative talk on the recently ratified Aarhus Convention, the ongoing legal
challenge of the EPA's consent to grow GM potatoes in Ireland and its ramifications in
Ireland. A must for all those interested in people power and the environment.
10:30am to 12 noon / CLIMATE CHANGE – Denial and Populism.
Chair: Nuala Ahern (Green Foundation Ireland).
Speakers: Dick Pels (Dutch Green Foundation); Prof. John Sweeney (NUI Maynooth);
Dr. Padraic Larkin (former EPA Director).
12 noon to 1:30pm / NUCLEAR ENERGY – The Answer to Climate Change?
Chair: Eamon Ryan (Leader, The Green Party).
Speakers: Rebecca Harms (MEP); John Gibbons (ClimateChange.ie); Cllr. Mark Dearey (The Green Party); Jim Morrissey (BENE – Better Environment with Nuclear Energy).
12:30pm to 2:00pm / LUNCH
1:00pm to 3:00pm / WORKSHOP: Effective Responses to Populism.
Given by: Elizabeth Drury (Eye to Eye Insights).
3:00pm / POLITICS AND ENVIRONMENTAL NGOs – Scratching Whose Backs?
Chair: Dr. Elaine Byrne (Lecturer in Politics).
Speakers: Tara Connolly (Greenpeace Europe); Michael Ewing (Environmental Pillar); Noeleen Hartigan (Amnesty International Ireland).
4:45pm / COFFEE BREAK
CAMPAIGNING WORKSHOPS:
5:15pm to 6:00pm / Comedy as a Campaigning Tool. Given by: Abie Philbin Bowman.
6:00pm to 6:45pm / Music as a Campaigning Tool. Given by: Tommy Sands.
6:45pm / OUTDOOR BARBECUE
7:15pm / FILM – Irish premiere of Récits de Fukushima.
Introduced by: Alain de Halleux (Director).
8:30pm / LEVIATHAN POLITICAL CABARET
Leviathan is delighted to present a very special edition hosted by publisher, broadcaster
and Dragon's Den panellist, Norah Casey on Good versus Bad Journalism in the Internet
Age.
The panel will include Harry Browne (lecturer in journalism at Dublin Institute of
Technology); Carol Hunt (The Sunday Independent); John Ryan (Broadsheet.ie); Tom
Mooney (editor of the Echo group of newspapers), as well as a multi-media presentation
from resident musical satirist, Paddy Cullivan and a short film from the Doris/Magee
team.
Followed by SESSION – Music performed by: The Submersibles.
______________________________________________________________________
SUNDAY 9th SEPTEMBER
8:00am / GROUP SWIM
7:30am to 9:45am / BREAKFAST
10:30am to 11:15am / REFLECTIONS ON JOHN MORIARTY
Introduced by: Brendan O'Donoghue.
11:15am to 1:00pm / PEOPLE CENTERED PLANNING – Lessons for Fracking /
Renewable Energy?
Chair: Frank McDonald (Environment Editor, The Irish Times).
Speakers: Elizabeth Muldowney (Fracking Campaign, Co. Leitrim); Katja Rottmann
(Germanwatch); Dr. Pascal Messer (Rathanau Institute); Risteard O Domhnaill (film-
maker).
1:00pm to 2:30pm / IRELAND, EUROPE AND THE WIDER WORLD
Chair: Dan Boyle.
Speakers: Pierre Jonckheer (Co-President, Green European Foundation); Hans Zomer
(Dóchas); Nuala Ahern (Chair, Green Foundation Ireland).
2:30pm / END OF FESTIVAL
______________________________________________________________________
CHILDREN'S PROGRAMME:
Ball games and Board games on site
FRIDAY NIGHT
Welcome meeting and getting to know each other in the Dining Room.
SATURDAY
Breakfast, followed by outdoor play until lunch-time.
2:00pm / Puppet Show.
3:00pm / Face Painting.
3:30pm / Drama Workshop.
7:00pm / Barbecue.
8:30pm / MOVIE TIME:
Bring along your favourite DVD and we'll have a vote to see which one is shown.
SUNDAY
Breakfast, followed by a Beach Scavenger Hunt.
____________________________________________________________